To add your link all I ask of you is to:
1. Leave a tip or trick in the comment box here (click on the Post a tip/comment link below). Could be anything to do with beauty, fashion, cooking, children, etc...
2. Add the Tip Tuesday button to a post on your blog letting your readers know you've participated in "Tip Tuesday".
You do not have to carry this button on your side bars. You are welcome to if you want.
3. See a tip you like, visit the blog of the blogger that posted it and let them know by following and leaving them a message on their blog.
4. If you receive a new follower return the favor by following them back. The more blogs you visit the more followers you'll receive.
Happy Blogging!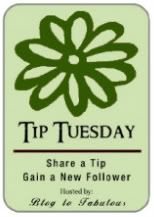 Post Your Tip/Comment Here